Experience. Insight. Reputation. Results.
A Practice Limited to Licenses and Regulatory Law. This is the Ray & Bishop Difference.
Occupational Licenses  >  DMV License Defense
Defending Department of Motor Vehicles (DMV) Occupational Licenses
Ray & Bishop attorneys aggressively represent occupational licenses issued by the Department of Motor Vehicles in license applications, investigations, disclosures, denials, accusations, appeals, reinstatements, and related legal matters.  Our strategy is simple: prevent problems, fight for the client if accused, and appeal unfair results.  Our focused, experienced, dedicated license and regulatory practice gives you the advantage.  Contact Ray & Bishop for a prompt, thorough and thoughtful discussion of your legal issue with one of our attorneys.
Common Types of Department of Motor Vehicles Occupational Licenses We Defend
Automobile Dealer
Automobile Manufacturer
Automobile Dismantler
DMV Registration Service
DMV Vehicle Verifier
DMV Salesperson
Driving School Owner
Driving School Operator
Driving School Instructor
Traffic Violator School
Traffic Violator School Owner
Traffic Violator School Operator
Traffic Violator School Instructor
Defending DMV Occupational License in Situations from Simple Mistakes to Complex Disputes
Choosing an experienced, knowledgeable license defense attorney is key to getting the best result from your California Department of Motor Vehicles (DMV) license matter.  Ray & Bishop attorneys defend DMV occupational licenses and DMV license applicants in all disciplinary situations, including:
Discipline for criminal convictions.
License Denial for criminal convictions.
Fraud and misrepresentation.
Discipline against out-of-state licenses.
Discipline against other licenses, such as a real estate license or notary commission.
We also aid DMV occupational license applicants in the license application process.  Issues that give rise to problems in DMV license applications include criminal convictions or a prior history of discipline with another licensing board or other California licensing agency.
Expertise in all Aspect of License and Regulatory Issues
Ray & Bishop provides legal representation for DMV licenseholders, including salespersons, dealers, driving school operators and traffic school operators, in any regulatory agency contact with the potential for an adverse outcome, including:
Denial of a License
Investigations by DMV Field Inspectors
Defense from an Accusation
Administrative Hearing
Petition for Reconsideration after an Adverse Decision
Writ of Administrative Mandamus (Appeal) after a Loss at Administrative Hearing
Relief from a Default Judgment
Modification of Discipline
Reinstatement of a Lost License
Common Questions from DMV Occupational Licenseholders for Ray & Bishop
I've been contacted by a DMV Field Inspector.  What should I do?
Hire an attorney.  Any statements you make to an inspector or investigator can become admissions that can be used against you later in court.  An attorney can step between you and the investigator or analyst and perform many important tasks, including clearing up misunderstandings, proactively addressing agency concerns, stopping intrusive and oppressive harassment by investigators, and facilitating communication with DMV in a manner that is managed, documented and controlled.
How should I reveal a past problem on an application, renewal form or disclosure form?
Truthfully and carefully.  We understand the tools that the DMV will use to detect adverse events and fact check your application or renewal form for honesty and accuracy.  We know the rules for what must be disclosed and what need not be disclosed.  If an explanation is required, we can assist with important strategic and messaging considerations to minimize the danger of denial or discipline resulting from the disclosure.
I just received a Statement of Issues or a letter denying my license application.  What's my recourse?
A Statement of Issues from the Department of Motor Vehicles denying a license may require the filing of a Notice of Defense within 15 days of the date when the Statement of Issues was sent (not the date it was received).  A letter denying a license may contain a different deadline.  It is best to promptly contact Ray & Bishop for a consultation to review the letter, before an important deadline passes.
I've received an Accusation.  What's my next step?
You have only 15 days from the date the Accusation was sent to you (not from the date you received it) to file the Notice of Defense.  This matter should be turned over to an attorney as quickly as possible so that this deadline is met and the filing of the Notice of Defense is documented with proof of filing.
Can I Save My License or Get a License with a Pending Felony or a Felony Conviction?
DMV has disciplinary guidelines that classify convictions by types.  A conviction that is a more severe type, such as a Type A conviction, can be reduced to a lower level by certain strategic actions guided by a Ray & Bishop licensing attorney.  It is possible to become licensed, or save a license, even with a felony conviction.
How do I pay for an attorney?
We accept all major credit cards, bank debit cards, checks, money orders and cash.  Interest-free payment plans may be available in some circumstances.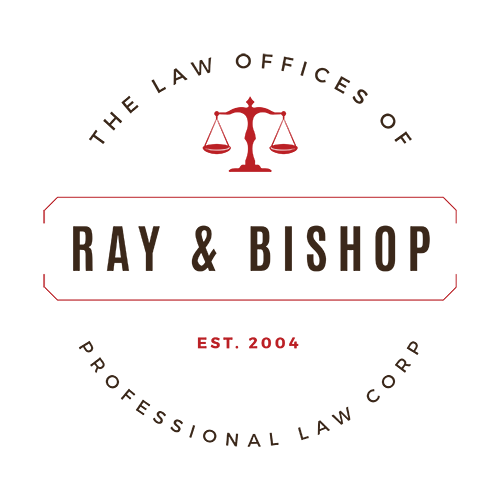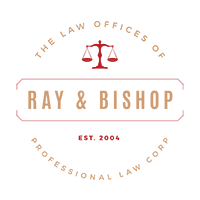 Address:
5000 Birch Street, Suite 7000
Newport Beach, CA 92660
Disclaimer
**Attorneys are only licensed to practice law in California. Attorneys' offices are only located in California. However, pursuant to United States Code of Federal Regulations 8 C.F.R. § 1.2 and United States Code 5 U.S.C. § 500, Attorneys may practice Federal Administrative Law and represent an individual located outside of California within the parameters of Federal Administrative Law. Attorneys will NOT advise clients on the laws of any State or any State law legal matters (with the exception of California).  The information on this website is for general information purposes only.  Nothing on this site should be taken as legal advice for any individual case or situation.  This information is not intended to create, and receipt or viewing does not constitute, an attorney-client relationship.  Legal advertisement.**