Ray & Bishop, PLC, have 25 years of experience defending professional licensees in California.
Call for a Consultation:
949-557-4888
Ray & Bishop PLC consists of three full-time attorneys: Fredrick M. Ray, the firm's senior partner, has more than 20 years of experience as a litigator in administrative, civil, and criminal matters. As counsel to thousands of clients, his experience, reputation, and integrity are the foundation of our practice. John D. Bishop, a partner of the firm, has appeared for trial throughout California on behalf of numerous licensed professionals, delivering exceptional results. Lindsay M. Johnson, the firm's senior associate, has achieved unprecedented success for our clients at both the trial and appellate level. 
Fredrick M. Ray
Senior Partner
Mr. Ray has over twenty years of experience as a litigator before administrative, civil and criminal tribunals. Mr. Ray has handled over two thousand legal matters, with a high success rate, including investigations, administrative law hearings, writs and appeals, civil lawsuits, and criminal matters, from serious felonies to misdemeanors
John D. Bishop
Partner
Mr. Bishop is the primary litigator at Ray and Bishop and handles the majority of the administrative appeals at the agency level. He appears regularly at the Office of Administrative Hearings and has developed professional relationships with most of the judges and attorneys who handle administrative cases for the state.
Lindsay M. Johnson
Senior Associate Attorney
Ms. Johnson joined Ray & Bishop in 2013, after distinguishing herself as a superior advocate throughout her career at Chapman University School of Law. She has handled administrative matters before the Department of Insurance, Department of Social Services, Board of Registered Nursing, and more.
Frequently Asked Questions
How does license discipline work in California?
In California, most license discipline matters are decided by a formal hearing process under the Administrative Procedure Act (also known as the "APA".) The APA provides for basic due process by way of written notices and a hearing, if demanded by the licensee or one denied a license, before an administrative law judge, usually at the Office of Administrative Hearings. Some administrative matters are dealt with informally by alternative procedures, such as an informal investigation or citation, which are not discussed here.
A formal administrative disciplinary hearing is unlike other types of trials in that the licensing agency, board, bureau or department makes the final decision on the case. Even if the administrative law judge finds in a licensee's favor, the agency, board, bureau or department can reject or modify the decision of the administrative law judge.
What is an Accusation? What is a Statement of Issues?
Attorneys on behalf of the agency, board, bureau or department serve the licensee with a notice, called an Accusation, stating their intent to discipline the licensee and the basis for such discipline. If a license applicant has been denied a license, the applicant is served a Statement of Issues stating why an applicant should be denied a license. These documents open the administrative case and accompany documents that notify an individual of their rights in the hearing process. Upon receiving an Accusation or Statement of Issues, a Notice of Defense must be promptly filed in response to the Accusation or Statement of Issues to preserve the right to a hearing.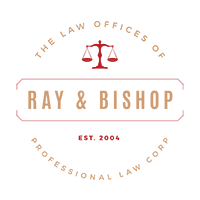 Address:
4100 Newport Place Dr., Suite 670
Newport Beach, CA 92660
Disclaimer
**Attorneys are licensed to practice law in California. Attorneys' offices are only located in California.  The information on this website is for general information purposes only.  Nothing on this site should be taken as legal advice for any individual case or situation.  This information is not intended to create, and receipt or viewing does not constitute, an attorney-client relationship.  Legal advertisement.**
©2023  Ray & Bishop, PLC