Reporting a criminal conviction to the California Medical Board, the California Board of Registered Nursing, the California Department of Insurance, or any other California licensing agency, can trigger an investigation and license discipline based on the conviction itself or on the failure to disclose the conviction or the explanation of the conviction given by the licensee. Having an experienced attorney as part of your legal team can make the difference. At Ray & Bishop, PLC, we have years of experience dealing with criminal convictions at all stages, for licensed professionals in California.
Almost all criminal convictions have to be disclosed to the state, no matter what state agency is in charge of the profession. Our license defense attorneys are familiar with each of the code sections and professions, and we can help licensed professionals properly disclose and mitigate potential discipline.
Different types of criminal convictions can trigger different kinds of discipline, or no discipline at all. Misdemeanor convictions that do not point to troubling concerns about the licensee include low blood alcohol drunk driving cases, disturbing the peace based on loud noise or a fight between adults, and misdemeanor Vehicle Code cases. Criminal cases that are likely to trigger discipline are ones that point to drug or alcohol abuse, have facts that show or hint at mental illness, any type of theft or fraud, any violent crime, and any sex crime. Sexual offenses that result in conviction and mandated sex offender registration can trigger immediate license revocation. Our attorneys at Ray & Bishop, PLC, offer consultations to review criminal matters to assess them for likely licensing outcomes.
For the Medical Board of California, physicians are required to fill out the ENF-802: Criminal Action Reporting Form, within 30 days of the date of the bringing of an indictment charging a felony or of a conviction of any kind. A physician license defense attorney can help make sure this document is filled out completely and accurately to avoid a citation and fine, and to comply with California Business and Professions Code section 802.1
For the Board of Registered Nursing, registered nurses must disclose their conviction to the agency within 30 days, according to Title 16 California Code of Regulations section 1441. The Board of Registered Nursing defines Unprofessional Conduct as failing to report to the Board, within 30 days, any of the following: (1) the conviction of the licensee, including any verdict of guilty, or pleas of guilty or no contest, of any felony or misdemeanor. (2) Any disciplinary action taken by another licensing entity or authority of this state or of another state.
The Department of Insurance also has reporting requirements, located under the California Insurance Code at sections 1736.5 and 1729.2. An insurance agent is required to disclose changes in "background information" on the Background Information Change Disclosure Form (LIC #2557B), covering convictions of misdemeanors and felonies, filing of felony charges, administrative actions involving any professional or occupational license, and other reportable events. The experienced insurance defense attorneys at Ray & Bishop, PLC, can guide you through the reporting process.
Dishonesty can be even more damaging than the criminal case itself. An experienced licensing attorney should review all communications with the Board before they are sent, to ensure that the information provided is accurate and that the exchanges are well documented. The early involvement of a license defense attorney can ensure an honest, positive and consistent message that reassures the Board or agency.
A professional licensing attorney's assistance is invaluable during the explanation of the criminal conviction as well. Providing either too much information, too little information, or unhelpful information can have consequences on whether or not the Board files an Accusation or tries to revoke or suspend the license. Client are shocked to hear their own words, written by them in a vain attempt to try to make a good impression, used against them in an administrative hearing to support license denial or revocation.
Through effective, prepared representation, Ray & Bishop, PLC, has protected the licenses of hundreds of professionals in California who have suffered criminal convictions. Call us for assistance if you have a criminal conviction and you must report this conviction to a licensing agency.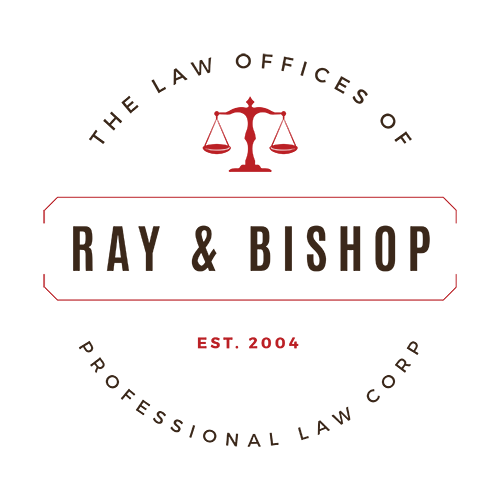 Disclaimer
**Attorneys are only licensed to practice law in California. Attorneys' offices are only located in California. However, pursuant to United States Code of Federal Regulations 8 C.F.R. § 1.2 and United States Code 5 U.S.C. § 500, Attorneys may practice Federal Administrative Law and represent an individual located outside of California within the parameters of Federal Administrative Law. Attorneys will NOT advise clients on the laws of any State or any State law legal matters (with the exception of California).  The information on this website is for general information purposes only.  Nothing on this site should be taken as legal advice for any individual case or situation.  This information is not intended to create, and receipt or viewing does not constitute, an attorney-client relationship.  Legal advertisement.**